The kitchen is one of the most important aspects of any dream home. Not only is there a great amount of opportunity to make it beautiful, but it's also a place where you'll spend ample time in.
In fact, on average, Americans spend 37 minutes each day merely preparing and cleaning up their meals. Not to mention all the ingredient gathering, cooking, and serving food that takes place here as well.
Regardless of your kitchen routine, it's important that you take this remodel very seriously.
This is your chance to turn loose and use the kitchen design trends 2020 has to offer you. Read below for all the hottest trends that you should consider!
1. Marble Backsplash
Broken marble slabs are easy to come by and are among the most budget-friendly design options to incorporate into your kitchen remodel. You're literally turning someone else's trash into your own treasure!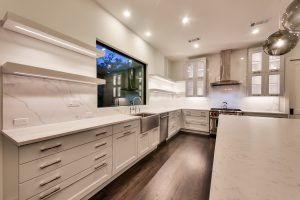 Many people go for a ceramic or glass tile backsplash for their kitchens. Separate yourself from the pack and incorporate a slab backsplash in yours!
It will bring sophistication to your entire space while also adding a fair bit of pizazz that you can't create anywhere else.
Because you're using marble, it will be easy to wipe down and will be a tremendous accent to the cabinets and appliances you fill your kitchen with. A perfect win-win scenario! These tips are what make a marble backsplash one of the top kitchen design trends of 2020!
2. Various Lighting Pieces
One of the most difficult decisions you'll face in remodeling your kitchen just became much easier.
Instead of choosing between only using fixtures such as recessed lights, pendant lights, or lamps throughout your kitchen, now is the time to use all of them! The trend nowadays is to use as much lighting as possible, however, you can obtain it.
Especially now that LED lights are cutting down on your energy usage and monthly energy bill, you no longer have to suffer from dimly-lit corners of your kitchen.
Just make sure the lighting is a consistent tone and brightness on each fixture and your kitchen will seem as if it's being lit by the angels from heaven.
3. Three-Toned Kitchen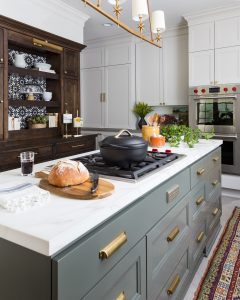 One of the hottest design trends of 2020 has got to be the use of three-toned cabinetry in your kitchen.
While designers used to warn you of limiting your cabinetry colors to two, they're now opening the opportunity to add a third! This gives your kitchen a level of spontaneity and liveliness that it wouldn't otherwise have.
With the addition of the third color, each tone can then represent a corner of the all-important kitchen triangle for your layout.
To your guests, this will give your kitchen more variety. In addition, it can help you organize your kitchen around the cabinetry that's been designated for the sink, the fridge, and the stove respectively.
4. Give it a "Brass" Nature
One type of metal that isn't being used enough in kitchens these days is brass. With that being said, it's stock is rising rapidly. Now's the perfect time to beat everyone else to the punch!
Using brass on complimentary pieces in your kitchen will give it a different look that your friends and family will admire.
For example, using it for things like cabinet handles, light fixtures, sink faucets, and pantry knobs or handles serve as the cherry on top for your kitchen's tone.
The fun doesn't stop there, as there are several brass finishes to choose from. Consider options such as antique brass, unfinished brass, and polished brass to tie the whole kitchen together.
5. Make the Appliances Pop!
Perhaps you want the appliances that you place in your kitchen to do the talking for your entire food gallery.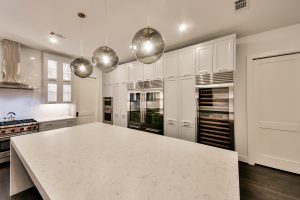 This is the perfect option for those of you that adore white cabinetry and countertops, but also have a desire to make your kitchen stand out.
If that's the case, why not go for those all-white cabinets, a neutral backsplash, white marble countertops, and make your appliances the lively-colored pieces?
Many appliance manufacturers make appliances in colors you wouldn't expect them in. Sometimes, those weird-colored models are cheaper than their neutral-colored counterparts.
Now, you can finally have that mint-colored, old-timey fridge that you always wanted and have it mesh well with the white cabinets of your dreams!
In the end, buying appliances that are all in different colors will tie the entire room together.
6. A Countertop/Backsplash Match-Up
Maybe you're looking for a way to bring all your different design ideas such as cabinetry, appliances, layout, and lighting tie all together and are struggling to find a way to make it all fit.
Try using the same material for both the countertop and backsplash that you incorporate!
Using the same material for these key pieces can help everything else fall into place and can carry out all your other designs as planned.
Materials such as marble, granite, glass, concrete, and tile are all qualified candidates to fit this plan. If you're not sure which would look best, be sure to use a 3D designer tool to brainstorm a few ideas.
Consider All the Kitchen Design Trends 2020 Has for You!
Now that you've seen all of the different kitchen design trends 2020 has to offer, it's time to start planning your kitchen remodel.
There's no time to waste. Get the kitchen of your dreams by teaming up with a kitchen remodeling construction company to fit your needs.
Be sure to check out this page for more information on our kitchen remodeling process and how we can help you get started.
For more inquiries, please feel free to start by filling out our contact form online and we'll be happy to assist you further.